What counts in life is not the mere fact that we have lived. It is what difference we have made in the lives of others that will determine the significance of the life we lead.
– Nelson Mandela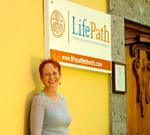 Many life-shattering and negative events took place this week – if you have been watching the news, I'm sure you know all about it. While it is all taking place in distant places, rest assured that these events affect us in one way or the other. Now, more than ever, we must work towards creating peace – and we must act from love.
Hundreds of precious innocent lives are lost everyday. It is so easy to despair. The world can be a dark place. But it is during these hard, difficult times that we must focus our energies, more than ever, on doing good things. The time to make a difference in our lives, and in the lives of others, is NOW.
This week's quote by Nelson Mandela is a powerful call for us to reflect on what we are doing that impacts the world in a positive way. Here, in our little piece of paradise (yes: San Miguel may not be perfect, but it is paradise), we may forget about the bigger picture. We live our lives in bliss, and thank the Universe for that – but, are we really taking part in making the world a better place? Even small actions in our community can have an impact beyond our comprehension. That is why I'm actively involved with Camino de la Paz; I believe that there is no better place to begin with than our own community. We can transform lives through the simplest acts, when they are motivated by sincere love. Stay tuned for our upcoming celebration of International Peace Day on September 21st!
What are you doing to make a difference? How do you think we can help heal the wounds of the world we live in? I'd love to read your answers at  docbeverly@aol.com.