DID YOU NOTICE SOMETHING ODD LAST WEEKEND?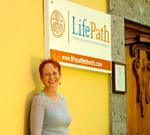 Sometimes we have everything in place: a detailed plan of actions, the will to create something, and even a special time during a particular day in which to do it. All the conditions are 'perfect' and we're ready to get going.
Guess what? Sometimes the Universe has a different plan!
This is what happened last weekend. Our newsletter service provider, AWeber, suffered a major DDoS attack (i.e. was hacked) and it was just not possible to send our usual Sunday newsletter. We apologize for any inconvenience – but, we're back! This incident made me think about how unpredictable life is, at all times. We're so used to keeping schedules, making plans, etc. that we never give much thought to the fact that circumstances can change in a heartbeat.
It's not a matter of always feeling uncertain – that would be unbearably stressful! It's more about being permanently aware that circumstances can change and alter our plans – and getting mentally prepared for accepting this. Many times, last-minute difficulties are the Universe's way of protecting us, and while sometimes we get upset due to delays and changes that we didn't decide on, we have to remember that things happen the way they should, in the way that is best for us. Dealing with an unforeseen shift is about choosing how we respond to it, rather than 'reacting' to it.
Shift happens when we least expect it – and it can be a source of joy later on, if we only let it.
If you want to share the ways in which you address 'last-minute' shifts and changes, drop me a line at docbeverly@aol.com. I always love hearing from you!