If we don't change, we don't grow. If we don't grow, we aren't really living.
– Gail Sheehy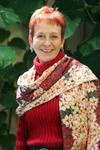 As I prepare to lead the first Hero's Journey Retreat of LifePath's new stage, I've been thinking a lot about change. Why is it that we resist change so much? Perhaps because we feel that what we know protects us from uncertainty.
We like being in control because we think it keeps us safe. The reality is that control and resistance to change keep us from growing. The quote at the top of today's newsletter by the wonderful Gail Sheehy sums this phenomenon up perfectly.
To change is to learn, to adapt, to evolve. Change introduces us to a new way of seeing life. It is the very door that lets us into the 'behind the scenes' area of The Universe. Once we let go of control, and dare to change even when we are afraid of the outcome, unexpected and positive things begin to happen.
I find that it's healthy to review our attitudes and beliefs at least once a month. We are often unaware of our own resistance to change and how it is negatively impacting our lives, and the lives of those around us. When we notice that we are clinging too strongly to a particular set of beliefs that are ultimately causing us grief, it becomes easier to modify our attitude and, gradually, make adjustments that will lead us to positive change.
Are you growing through life? You know I always love to read your comments.
Beverly (docbeverly@aol.com)