"Take the first step in faith. You don't have to see the whole staircase, just take the first step." -Martin Luther King, Jr.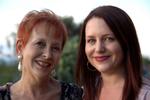 My daughter, Allison, and her dog, Cheese, arrived in San Miguel on Tuesday. And, I have to say that I'm in awe of her courage and determination for this brave move. She has been living in Portland, Oregon for many years where she developed deep friendships and connections and a life filled with joy and purpose. As an Immigration lawyer, she facilitated the transformation of many people's lives and developed a reputation as a gifted lawyer and speaker for human rights.
And, yet, when she was told of LifePath's many changes; she immediately embraced the opportunity to make a shift and to follow her own deep knowing that it was time for a change in her own life. She has always loved Mexico and, in fact, visited San Miguel as often as she could. She learned the language and she loves the culture. And, of course, she grew up in a world of healers and healing centers since it was my own passion to develop these centers and to facilitate healing retreats. In fact, she used to travel with me, as my assistant, when I took groups on personal growth adventures all over the world. So, it seemed natural that she would not only "want to" but "be extremely qualified" to assume the management of LifePath. A dream come true for me. She can continue to be involved in the transformation of people's lives, and I can be free to develop LifePath as a retreat center and facilitate retreats with others (including my husband). I have to admit that it's still a bit hard to believe, but it's really true!
So, there will, indeed, be positive changes at LifePath Center. New programs, new direction and new energy! Thanks to all of you for supporting me and LifePath over the years and I do hope you drop by to meet Allison. She will definitely be open to any ideas that you might have for new programs and/or improvements for LifePath. In fact, why don't you send us some feedback in response to this newsletter. We'd love to hear from you!
If you share this with a friend, please ask them to sign up as a subscriber to the newsletter on the homepage of www.lifepathretreats.com or by clicking the link below. I'd love to include them! Also, stay posted for the upcoming Repassionate Retreats For Couples that my husband, Michael, and I are planning.
I'm eager to hear back from you this week at docbeverly@aol.com.