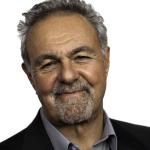 This week I want to honor a dear, long term friend and co-founder of LifePath Center: Joseph Dispenza.
Joseph and I met through a mutual friend, my tour operator, when I was taking people around the world on personal growth spiritual journeys and Joseph was writing "The Way the Traveler", one of his many books, sitting in a small cafe. Joseph didn't need to travel all over the world (although he did) to know the wisdom of the world. He held that wisdom deep within his soul.
From the moment we met; we began walking a path together in attempting to help individuals to understand themselves and the world in a deeper way. LifePath Center was the path that we took in order to make this a reality. And, wow, what an incredible path.
Before Joseph died, he and I had a chance to talk. He said to me, "Beverly, I'm so proud of US and what we accomplished in making a difference in so many people's lives. And, I'm so proud of you in continuing that work." He also said, "if you should ever get stumped and need me, just call on me and I'll be there." I can't think of a better spirit guide than Joseph Dispenza. Thank you, Joseph, for being a very important part of my life. You will be missed.