"A healer's power stems not from any special ability, but from maintaining the courage and awareness to embody and express the universal healing power that every human being naturally possesses."
― Eric Micha'el Leventhal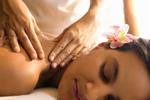 Marcela Garcia Ramirez, Ayurveda Healer at LifePath, is offering a 15% discount on all of her services this month. I hope you will take advantage of this wonderful service. It's truly amazing (first hand advice!).
Ayurveda (which stands for 'life knowledge' in Sanscrit) or Ayurvedic medicine is a system of traditional medicine & vedic system native to the Indian subcontinent and a form of alternative medicine. By the medieval period, Ayurvedic practitioners developed a number of medicinal preparations and surgical procedures for the treatment of various ailments. Practices that are derived from Ayurvedic medicine are regarded as part of complementary and alternative medicine and along with Siddha Medicine and Traditional Chinese medicine, forms the basis for systems medicine. It is internationally recognized by the World Health Organization (WHO), National Institutes of Health (NIH), and others.
Marcela is a gifted healer and has become a specialist in Traditional Ayurvedic Massage. Having traveled and studied extensively in India for her training; she brings all of these skills to her work as a healer in this tradition. I've personally had treatments with Marcela and highly recommend her work. I wouldn't miss this opportunity to experience this amazing technique. For more information on the specific massages and treatments that Marcela offers, go to http://lifepathretreats.com/healing-modalities.
For an appointment, you can contact Marcela at marcela@lifepathretreats.com or at 415.106.1077.