IT'S THE little THINGS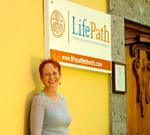 Even when we think there is nothing going on, there are small wonders and magnificent little stories taking place. Things that can make us smile in a way we never thought possible; the universe calling out for our participation. You could say there is a succession of events whose purpose is to draw our attention, to wake us up so that we can participate in life in a more active way.
Our lives are sometimes taken over by e-mails, phone calls, Skype calls, text messages, television shows, web chats, social networks, etc. It is astonishing! Modern communications are wonderful but they also need limits. When was the last time you enjoyed a full day of tranquility, and paid attention to the messages of life and nature instead of reading e-mails and posting on Facebook?
Of course, there are incredible advantages to using all those communication channels. But let's try to keep in mind that they should never constitute the core of our existence. There is so much more happening beyond the speaker, beyond the screen, beyond the keyboard – a myriad of little events that would bring so much love, beauty and wisdom if we only paid attention to them for a minute.
Go outside. Meet friends. Pay attention to the new blooms in your garden. Breathe in the smell when you enter the coffee shop down the street. Look at the sky in the morning and also at night – when was the last time you truly noticed every little thing that surrounds you?
Enjoy your day – and once you have noticed all those things, and experienced them with renewed senses, you can let me know how it went at docbeverly@aol.com.