While preparing this weekend's newsletter, I came across this traditional Indian story (source HERE). Besides being ideal for Mother's Day, its message touched me in a very profound way; therefore, I have decided to share it with you in its entirety. Do let me know your thoughts on it, I would love to read them at docbeverly@aol.com. Bev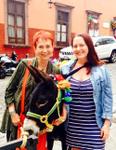 Once, an elderly lady was illumining her grandchildren by telling them stories. The grandchildren wanted to hear stories from their grandmother, so she decided to tell them a beautiful story. She said, "We human beings use the term 'mother' to refer to the one from whom we came into existence. We also call a cow 'mother' because it is associated with the cosmic gods. Again, we speak about 'Mother Earth.' So there are three mothers. These three mothers help us at each step of life.
"When we are born, we take our mother's milk for some time. Then we take cow's milk, and then we eat vegetables that we get from Mother Earth. Mother Earth produces food and we eat her food. We appreciate, admire and adore these three mothers, but we have to see them in a different light and deal with each of them in a different way. They can't be put together."
"The physical mother cannot eat the same food that nourishes Mother Earth. The earthly ground needs cow dung and manure for its food. Again, the cow cannot live on human milk or be kept in a house. And a human mother cannot live on grass or be put in a cow shed."
"Each of the three mothers has her own way of pleasing us. No one can please us at every moment in our own way. Even your own father cannot please you at every moment in your own way. He has many interests in life. He has to go to work, he has to mix with his friends and there are so many things that he has to do. So do not expect the same thing from each individual, and do not expect everyone to please you in your own way. Also, do not think that you will be able to change the respective roles of human beings. If people are doing different things, you cannot just change them. Each one has to do his and her duty in a different way. And it is you who have to receive from each individual according to the way that he wants to give, not according to the way that you want that person to give."
"Your mother is your friend, the cow is your friend and earth is your friend. But you cannot ask these three friends to always help you all at the same time or to change their respective roles. So, my grandchildren, when your mother gives you something, be happy at the time she gives and feel that this is the only way you can be satisfied. And when the cow gives you milk or when Mother Earth gives you something in the form of food and fruits, you have to be satisfied in the same way. Accept everything from each individual in the way the individual wants to give it, and never expect all earthly beings collectively to please you in your own way. Be happy with what you get, and make others happy in your cheerful acceptance."
HAPPY MOTHER'S DAY!