'Someday' is a disease that will take your dreams to the grave with you.
– Tim Ferriss
TODAY…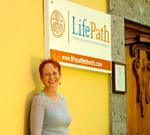 Write that recipe book. Take that photography class. Ask that person to forgive you. FORGIVE. Start a business. Learn to make your own clothes. Buy a plane ticket and visit the land of your ancestors. Move. Get fit. Stop smoking. Buy those shoes. Attend that conference or event. Change careers. Ask him/her out. Write that letter or e-mail – and send it. Talk to strangers. Learn to meditate. Travel to unknown places. Learn to swim. Try that dish you've always been curious about. Recover your life. Say 'I Love You'. Say 'I Love Me'. Make your voice heard. Start an organization. Request that scholarship or grant. Go have dinner by yourself, wine included. Take a left turn instead of a right. Say 'YES' to the nay-sayers. Write and publish a novel. Learn to paint. Change your appearance. Get that tattoo you always wanted. Watch that movie. Read all those books in your 'to-read' pile. Go back to college. Form a band. Learn how to sing. Book that cruise. Learn how to speak Spanish, Italian or French.
We only have right now. We only have today. Don't just dream – go ahead and Do. Create. LIVE!
I always love and appreciate your thoughts at docbeverly@aol.com.