Light precedes every transition. Whether at the end of a tunnel, through a crack in the door or the flash of an idea, it is always there, heralding a new beginning.
– Teresa Tsalaky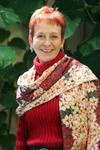 Life is full of transitions. Just as the sunset marks the end of day and the beginning of night, many events in our daily lives signal subtle transitions that have become so familiar to us, that we hardly notice them. When we leave work, for example, our very facial expression transforms in a way that may only be noticeable to very few of our closest relatives or loved ones.
The concept of transition is inseparable from the concept of change. I find it most interesting that when we mention the word 'change' we rarely think of a subtle and positive transition; we tend to think more of 'surprise' and 'unforeseen' events or situations. Maybe it's the way we have become used to living and existing in this era where new information comes to us at the speed of light, from everywhere and nowhere. I believe that every change can be approached as a transition; as such, we can make the best of it and focus on the new beginnings and the positive aspects of what is to come.
This week was Bere Parra's last week as Director of Administration at LifePath Center. While it makes me a bit nostalgic to see her 'go', she's not really gone. As she launches her PR agency, she will keep LifePath as one of her clients – and I couldn't be happier! What I really loved about her transition from LifePath to being the boss and founder of her own PR agency is that she communicated so openly with me since the very beginning; making the change so much easier to all of us at LifePath. It was not abrupt or drastic in the slightest – something I really appreciate. She has also been extremely gracious and flexible so that the key administrative and organizational aspects at LifePath will continue to work as seamlessly as they have up to this day. I think this is a terrific and inspiring lesson: when making room for the new in your life, we need to meditate on the best way to do it so that the situation evolves in a way that, instead of creating chaos and negativity, it creates light and paves the way for wonderful new beginnings. I wish Bere the very best and I know she will be successful in every project she undertakes.
The same approach can be applied to practically all areas of our life. Taking a moment to determine the most pleasant course of action before making any change (rather than doing it drastically, burning a million bridges along the way) will definitely generate more positive scenarios for all of those involved. Don't you agree?
Looking forward to your replies and comments at docbeverly@aol.com.