WE WALK TOGETHER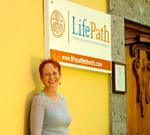 You're probably familiar with the phrase "We're all in this together". It's mentioned once in a while in every context possible, and it couldn't be more true. 'This' stands for a journey, for a challenge – for LIFE. We are all one and it is only when we acknowledge the power and strength that comes from standing together, and walking together, that we truly begin to grasp the beauty of belonging to the human race.
Even though we face many of life's most difficult tests alone, and in the end we are solely responsible for our choices and actions, one of the most precious things in life is the sense of community. The knowledge that, if we unite, we can overcome challenges and make our collective mark in this amazing planet. The certainty that, if we walk together, we can cover greater lengths than if we walk alone; creating a lasting path which can be followed by future generations.
As you probably know, many of us who are part of the San Miguel de Allende community have gotten together in an initiative for peace in our beloved city: Camino de la Paz (The Path of Peace). The initiative already has a Facebook page, a Twitter account and the website is in progress. We invite you to walk together with us next April 22nd to the inauguration of the Camino de La Paz. We will meet at the gazebo in Parque Juárez at 4 pm, where there will be music, dancers and activities for children. From there we will walk together to Rinconada de La Aldea (past the arches) for the Peace Pole – featuring the exquisite mosaic work by Michael Latriano – dedication ceremony and the official unveiling of Joan Columbus' beautiful village-themed murals, as well as of Carlos Cabán's mural "Mother of the Seeds".
Please make sure you sign up for the mailing list so that you can stay up-to-date with Camino de la Paz future events and projects!
Drop me a line at docbeverly@aol.com.