"If you love someone, the greatest gift you can give them is your presence." – Thich Nhat Hanh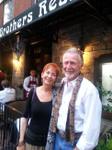 Last week I wrote about Conscious Loving and the responses were amazing. I love hearing from you! I received such wonderful replies that I thought I'd share them with you today. They are below. But, first, I'd like to share with you what I mean by "Conscious Loving" and a "Conscious Relationship". To me, having a conscious relationship and loving consciously means that the emphasis is on growth- physically, mentally, and spiritually.
As a young girl, I thought that a relationship was supposed to be all sunshine and sparkles and at the first sign of trouble or anger or upset; it meant that something was seriously wrong. I learned quickly that this belief was an illusion. What I realized (although it took me several relationships to figure this out!) is that growth is not an easy process and it takes two people who are dedicated to it in order to deepen the relationship and figure out who we really are. At the same time I had to let go of my belief that expressing who I was would put my relationship in danger for fear that I would be judged or worse yet, abandoned. Instead, I began to believe (thank goodness) that in a conscious relationship; expressing who we are and what we want IS the point. And, we certainly have to be consciously aware in order to do that.
Some of the Conscious Loving practices that I mentioned in last week's newsletter include the following:
1. Commitment
2. Drop the defensiveness
3. Honesty
4. Agreements
5. Be Accountable
6. Emotional self-reliance
7. Appreciation
8. Acceptance
9. Communication
10. Listen openingly
11. Personal Growth
12. Love
And, this week I'm thrilled to add some of the practices that my readers shared with me (with their permission) that they use in their own lives. I am so grateful for their responses.
"There are times when I see the good in my partner and it moves me to feel even more loving toward him. Also, being able to laugh at our foibles, idiosyncrasies and "stuff" makes being in the relationship helpful and fun. We try to take time at the end of the day to process the day. Going over our day releases any negativity that may have built up and we go to bed relaxed and free of stress." Lauren Osornio
"But you forgot one of the most important ingredients that you and Michael practice regularly—Keep your sense of humor and don't take your selves and your dramas so seriously! Right?" Patrice Wynne
"Apologizing when necessary (taking Responsibility)." David Bossman
"For 30+ years I have been a keen observer of how older married couples talk to each other. I believe "conscious loving" plays a big part. I am determined to be loving and respectful in what I say and in my tone of voice." Peggy Vineyard
"I wanted to respond to your neglecting to mention the sexual aspect of any couple's (gay or straight) relationship. I deem it the MOST important as the relationship continues to grow. The mind has no age!! We must not let stupid and dead humor to deny us full sexual pleasure at any age!! Be there——-let it roll—your body needs love as much as your mind and soul!! I have offered MEN-NO-PAUSE workshops in Safed Israel—for post menopausal women—and those approaching menopause with fear of losing their husbands. I will also answer any questions regarding the topic. Bassia Bar-Chai (Let me know if you want to contact Bassia and I'll put you in touch with her.)
"But don't forget "forgiveness" of the following: 1). One's self and 2). One's mate, especially when the mate has the understanding and grace to say "I'm sorry."" Linda Adler
If you share this with a friend, please ask them to sign up as a subscriber to the newsletter on the homepage of www.lifepathretreats.com or by clicking the link below. I'd love to include them! Also, stay posted for the upcoming Repassionate Retreats For Couples that my husband, Michael, and I are planning.
I'm eager to hear back from you this week at docbeverly@aol.com.