"Keeping busy and making optimism a way of life can restore your faith in yourself." Lucille Ball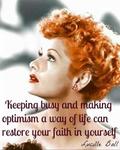 Sometimes I get annoyed when my friends are just too busy to pick up the phone or answer an email or need to take calls during the time that we are together. And, I have been accused, so many times, of being too busy myself. Yet, as it turns out, being busy may have benefits. Why? Because new research suggests that staying busy could be the key to staying sharp as we age.
"The Dallas Lifespan Brain Study (see below for a link to this study) surveyed more than 300 adults and found that those with the busiest schedules also had better brain processing speed, improved working and episodic memory, sharper reasoning, and an even wider vocabulary." There are other research studies that show that regularly engaging in mentally challenging activities – like playing chess or doing crossword puzzles or learning a new language – also boost brain power. So, I would like to take this opportunity to ask for forgiveness from all of my friends that I have accused of being too busy and that includes myself! Of course, there is something called balance, right? More about that in another newsletter.
I also thought a lot about Lucille Ball's quote and how optimism might relate to being busy. So, I did some research on my own and I think I might have found at least one clue. Daniella Whyte recently wrote a blog post for the Huffington Post called "Highly Optimistic People Do These 10 Things. These 10 things include: Smile Often, Be Thankful, Laugh A Lot, Take Responsibility, Listen, Show Kindness, Forgive, Do Your Thing, Think Positively and Be Inspiring. In her description of "Do Your Thing", she stated that "optimistic people are not envious or jealous of the success of other people. Why? They don't have time to because they are too busy being successful themselves." Now, that's something to think about.
Are you being optimistic and staying busy? I'm eager to hear back from you at docbeverly@aol.com.